PETE'S  SMALL ENGINE   Marshall,  MN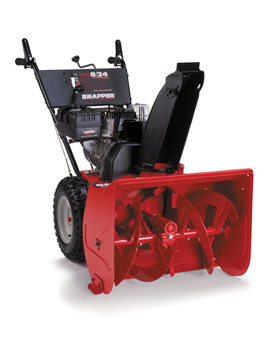 # Snow removal capacity of 2000 lbs./min.

# Fuel capacity of 4 quarts

# 6 forward and 1 reverse speed

# Forward speed up to 2.25 mph, reverse speed .96 mph

# 4-bladed steel Impeller

# 180 degree chute rotation

# Operator presence control

# Adjustable skid shoes standard

# Size 16.00 x 4.80-8 Snow Hog tires

# 3 year machine warranty

Move the snow out of your way with this heavy-duty machine. With an 8-Hp Tecumseh engine and six-speed on-the-go shifting, you are sure to clear up to 2000 pounds of snow per minute. This snow can be thrown up to 40 feet leaving a two-foot path of clean pavement.

LAST OF THE HEAVY DUTY 8HP LARGE FRAMES. WHILE SUPPLY LAST!

    ONLY $999.00

110 VOLT ELECTRIC START  $100.00 EXTRA